An evening watching an otter family in Asturias
With an increase in otter activity during the past few weeks, we concentrated our efforts looking for them along the Río Sella and Río Piloña in Asturias. We spent over 25 hours this week walking, watching and waiting. Last night we decided to look further a field and discovered a potentially excellent otter site, just 5 minutes drive away. We found tracks and spraint. The location was open with good views across the river but also with well hidden vantage points and not close any houses or footpaths.  Human traffic at a minimum.  We left happy and optimistic.
Whilst driving home we opted 'for one last look' at our usually otter hotspot. It was a good decision. Although getting there late and the light fading we soon spotted one, two, three and finally four otters.  A family – mother and three young cubs swimming, playing and fishing. We watched for over an hour, during which time the mother struggled alone to subdue a lamprey. The cubs played and one caught a small eel. A real treat.

An otter fishing in the rapids. It was difficult to predict where they would surface, especially with 4 potential targets.

We were losing light quickly but I'm quite pleased with the D7000 at low light, this was taken at ISO 1600 with minimal noise.

Mother otter watching over her young.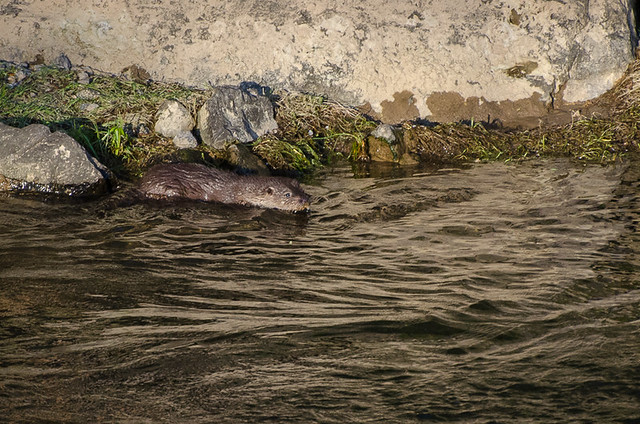 A young otter entering the water after feeding on a lamprey.

The female otter struggling with a large lamprey.  She swam carrying it some distance before clambering on to the bank.  

We noticed the otters tended to return to the water after feeding, clean themselves and then feed again.
All Rights Reserved – © John Shackleton